Creating a Vehicle Emergency Kit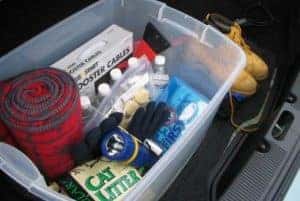 What would you do if you became stranded in your vehicle? Creating an emergency kit to keep in your car can be a lifesaver, literally.
What items should you include in an emergency kit?
1. Kitty Litter- this can help get your car unstuck in an emergency situation.
2. Jumper Cables
3. Fix-A-Flat
4. Heated Emergency Blanket- you can find these in the camping section of most stores.
5. Hand Warmers
6. First Aid Kit
7. Flashlight
8. Granola or Protein Bars and Bottled Water
9. Small Broom or Shovel
10. A Change of Clothes
11. Matches and Small Candles
12. Tow Chain or Rope
13. Extra Hats, Gloves, Scarves, etc.
14. Batteries
15. Duct Tape
Although we hope you will never be in the situation to use an emergency kit, it is always a good idea to be prepared! Drive safely!